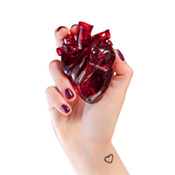 This isn't the end ... just a new beginning.
The online shop is temporarily in maintenance mode while I take a break and then hunker down with some brand new (and likely unexpected) sculptures under Little Shop of Hearts. (This girl can't just make hearts forever.)
I have learned so much over the past year and a half while running this unexpected and completely accidental little business.
Thank you all so much for your support and allowing me the opportunity to call myself a 'selling' artist, and the privilege of having my artwork decorating your homes and adorning your bodies. I have genuinely been consistently amazed by the response and am so extremely grateful for this experience.
I still have some heart sculptures and pendants in stock, so if at all interested please DM or email me at littleshopofhearts@gmail.com.
Thank you, from the bottom of my heart. ♥️
Nikki
Founder, Little Shop of Hearts